A Word from the Sculptor/Silversmith
All our products are been designed, modelled and cast by myself, Roddy Young, here in the Highlands of Scotland. I know that when choosing something for a special gift that might one day become a family heirloom, only the best will do, so I have put my 35 years of knowledge and experience to good use in creating this Clan Crest range. Each clan piece is individually cast to order in solid sterling silver so is quite unique and an investment for the future.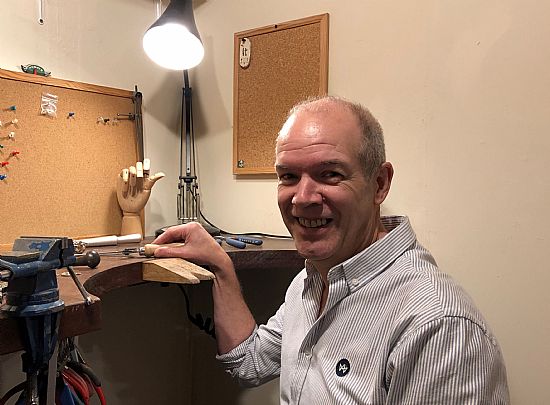 A native of Inverness, I first became interested in creating small intricate objects whilst at Art School in Edinburgh. I then decided to specialise in Silversmithing and Jewellery Design and graduated in 1984 with an honours degree. After working for several independent jewellers I became more interested in sculpting and after carrying out various commissions decided to concentrate on it alone. I set up a freelance sculpting business in 1989 to service jewellers and giftware companies, which I still run today. Through doing this, I came across an organisation called the IPG that represents professional craftsmen so was recommended to apply and am now a fellow of the prestigious Institute of Professional Goldsmiths. I am also listed in Who's Who in Gold and Silver.

Clan Crest Silver is very much a family business and although I take care of production and design, my wife June takes care of the business side. She is more than happy to field all manner of questions you may throw at us!

It was a great honour for me to present the Gathering Dirk to the then, HRH the Prince of Wales, at the now infamous "Gathering" in Edinburgh a few years back. In 2022, I was also given the honour of making the silverware needed for the inauguration of the new Chief of the Clan Buchanan. Since then, many new bespoke commissions have been created for Clan Chiefs and Armigers. There is a page on the sidebar which showcases several of them.