Welcome
If you are looking for high quality, solid silver clan crest jewellery and accessories, hand-crafted from initial design to finished piece in the Scottish Highlands, look no further. We have been trading as CCS for over 10 years now, and as we are a small family business, we are able to give our customers a truly personal service whenever they choose one of our pieces.
We also specialise in the making of fine Armiger, Chieftain and Clan Chief Badges and accessories. To find out more click on the link in the Top Menu.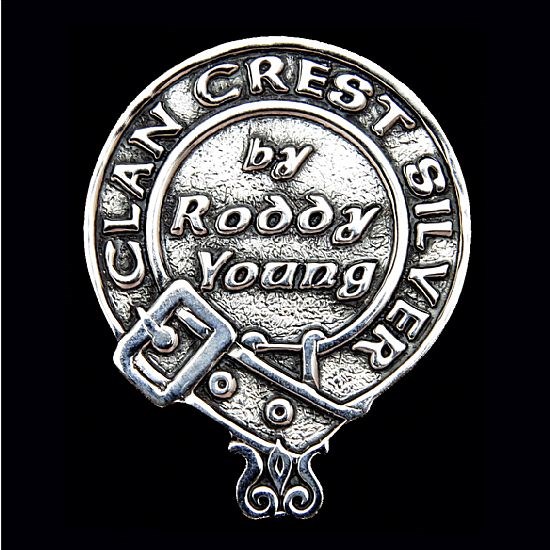 Our Custom-Made Pieces
We can offer a range of 9 different pieces for 120 clans (see Crest Images tab) - Belt Buckles, Brooches, Buttons, Cap Badges, Charms, Cufflinks, Kilt Pins, Pendants and Tie Pins. As all our pieces are custom-made to order, we usually quote 4-6 weeks to get the larger items ready for dispatch and 2-3 weeks for the smaller non-hallmarked items. We also offer FREE SHIPPING to ANYWHERE IN THE WORLD. (Please note that items sent to countries outwith the UK can attract local taxes and customs charges upon delivery. These are sadly outwith our control and we are not responsible for them.)
To commission one of our fine heirloom quality pieces, just get in touch via e-mail and we'll send you all the details. We also have an Etsy Store if you prefer where you can purchase pieces for the most commonly sought after clans. Easiest of all however is to go to the pages for Cufflinks, Kilt Pins, Pendants and Charms on the Top Menu where you can purchase any of our 120 clans using Paypal.
The crest pieces have all been designed, sculpted and cast in our workshop here in Inverness, Scotland. Everthing is cast in solid sterling silver and the larger items (1 inch and above) are hallmarked in Edinburgh. Finally, they are presented to you in high quality gift packaging.
(The banner picture at the top of the page was taken by June Young, and is of Loch Ness at sunset. The watercolour is of Eilean Donan Castle and was painted by Barbara Young, the sculptor/silversmith's mother.)